Classical Music is the original Virtual World! Think about it. A vivid imaginary story is created through each piece of music, through the infinite array of musical possibilities.
And the best part? The software is pre-installed in every human brain.
Why Radically Delicious? Classical music is, and always has been, cutting edge, relevant, even rebellious. But it has lost its relevance to the communities it seeks to serve.
The solution? Break down the barriers between performer and audience.
Take music back to the people!
Why not? The experience of music is a lot more fun and engaging when it's approached from a social, playful, spontaneous attitude. That's the whole point!
Why not dance and sing as you practice? Why not laugh and weep through your instrument?
Why not rock-classical-concerts with live orchestras surrounded by dancing audiences?
Why not?
Classical Music. It's Radically Delicious.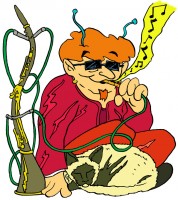 Click to go to Radically Delicious Stuff