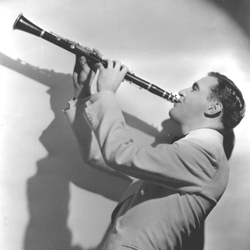 Image Credit
How does jazz clarinet tone differ from classical? An audio journey through the variations.
Just as many classical clarinet players differ in tone from each other, so do many jazz players. But the goal of classical tone is different from jazz, in that classical requires more soft playing, more blend with other instruments, and more clarity in articulation to achieve its goals, while jazz needs to project and take center stage with a more relaxed articulation.
The following sound bites attempt to trace a path between the two styles, demonstrating similarities and differences between classical and jazz clarinet tone.
Eddie Daniels is probably the best known jazz clarinetist in the past 2 decades, and he is also well known for his ability to play classical music with alacrity. Larry Combs, retired principal clarinetist with the Chicago Symphony, has a well known classical clarinet tone.
The first excerpt features the Combs/Daniels duo playing some classical style music. Note the "square" and very short articulation style, and the blended tone.
From Crossing the Line, Eddie Daniels and Larry Combs, Amilcare Ponchielli "Divertimento for Two Clarinets"-
Audio clip: Adobe Flash Player (version 9 or above) is required to play this audio clip. Download the latest version here. You also need to have JavaScript enabled in your browser.
Here we have the same duo playing in a little more "relaxed" style, but still classical in detail.
From Crossing the Line, Eddie Daniels and Larry Combs, Bordon Goodwin "Leblanc Suite, "With Humor"-
Audio clip: Adobe Flash Player (version 9 or above) is required to play this audio clip. Download the latest version here. You also need to have JavaScript enabled in your browser.
The next excerpt features Benny Goodman, the consummate jazz clarinetist and the original "crossover" player to classical. His classical reputation led to several seminal classical works being written for him, most notably Aaron Copland's Concerto for Clarinet and Orchestra. But he also recorded the Mozart Clarinet Concert, K622, numerous times. He studied classical clarinet with legendary British clarinetist and teacher Reginald Kell.
From Goodman plays Mozart "Rondo" form concerto-
Audio clip: Adobe Flash Player (version 9 or above) is required to play this audio clip. Download the latest version here. You also need to have JavaScript enabled in your browser.
The 4th excerpt blurs the lines between classical and jazz clarinet playing. Despite a more refined sound, both players begin to push the sound "open" a bit more, and the articulation style becomes more appropriately wide and lazy.
From Crossing the Line, Eddie Daniels and Larry Combs, Gordon Gooman "Leblanc Suite", "Ragtime"-
Audio clip: Adobe Flash Player (version 9 or above) is required to play this audio clip. Download the latest version here. You also need to have JavaScript enabled in your browser.
This next snippet shows Daniels and Combs in full jazz tone, a wide and sprawling style and sound.
From Crossing the Line, Eddie Daniels and Larry Combs, Bud Powell "Hallucinations"-
Audio clip: Adobe Flash Player (version 9 or above) is required to play this audio clip. Download the latest version here. You also need to have JavaScript enabled in your browser.
The next 3 samples are real jazz clarinet playing. Two samples of Artie Shaw, known for his beautiful "jazz" tone. And finally, we end with an sample from Let's Dance with Benny Goodman wailing in his powerful and piercing jazz tone.
From Artie Shaw "More Last Recordings", "Back Bay Shuffle"-
Audio clip: Adobe Flash Player (version 9 or above) is required to play this audio clip. Download the latest version here. You also need to have JavaScript enabled in your browser.
From Artie Shaw "More Last Recordings", "Autumn Leaves"-
Audio clip: Adobe Flash Player (version 9 or above) is required to play this audio clip. Download the latest version here. You also need to have JavaScript enabled in your browser.
From Benny Goodman and his Orchestra, "Let's Dance"-
Audio clip: Adobe Flash Player (version 9 or above) is required to play this audio clip. Download the latest version here. You also need to have JavaScript enabled in your browser.
After listening to all these excerpts, perhaps you will agree that the difference in tone is not as great as some would say, and that style accounts for the greater part.
Would you like to share practice ideas with other musicians? You could do so at the Practice Café.