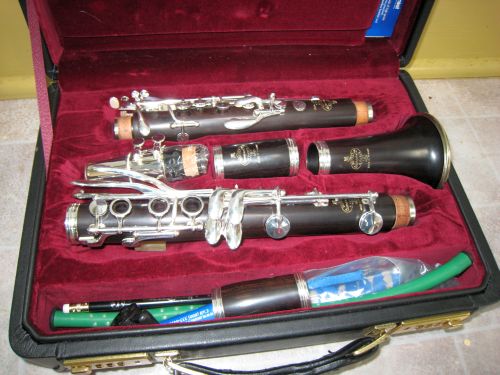 After trying these in our hall, the Ohio Theater with its dry acoustics, I ended up choosing the second clarinet in this video.
It's around 3:30, half way through. The first one, which I show in the end with the beautiful wood, ended up feeling too "tight" in resistance, ultra focused, but unable to expand. The second has more resonance and ring, and has flexibility.
This past week was a whirwind of intense rehearsals and difficult music. I had little time to devote to testing the Festivals one by one. Since I had picked the #1 as "the one", as you see in the video, I only took #1 to test briefly in the theater. Luckily I had a good set of ears in the hall for the quick test after rehearsal. Colleague Paul Bambach, who teaches clarinet and wind ensemble at UCSB California, went out to listen to 5 seconds on the Festival (the tight one) and my old R13. He favored my old R13.
So the next day, during the dress rehearsal break, I brought out the two Festivals, #1 and #2, and played a scale on each right there on stage. It was obvious to both Paul and me that #2 had the resonant fullness which my old one has, but with a "fresher" resistance, a bit easier to voice. It's a world of difference in my field.
Whew, that was close....
Would you like to share practice ideas with other musicians? You could do so at the Practice Café.