Image Credit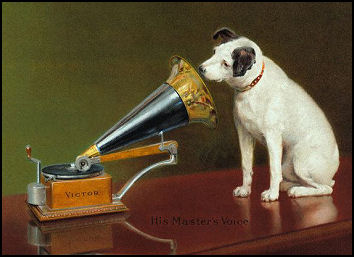 Does singing a note before playing it on an instrument help you play it better?
I'll address that question in this week's Tone Talk post.
In the context of playing a musical instrument, voicing describes the ideal shape of the oral cavity to make the best tone. However, looking deeper into the word "voice", its meaning offers a number of useful clues and queues as to its implications for wind instrument players.
Let's glance at the history of the root word of voicing- the word VOICE:
From an online etymological dictionary:
Voice (n.) late 13c., "sound made by the human mouth," from O.Fr. voiz, from L. vocem (nom. vox) "voice, sound, utterance, cry, call, speech, sentence, language, word," related to vocare "to call," from PIE base *wekw- "give vocal utterance, speak" (cf. Skt. vakti "speaks, says," vacas- "word;" Avestan vac- "speak, say;" Gk. aor. eipon "spoke, said," epos "word;"
Just look at all those roots from which the word and meaning of voice comes!
Of course, a moremodern definition of the word voice describes voice as:
Musical sound produced by vibration of the human vocal cords and resonated within the throat and head cavities.
Focusing the meaning further, for musicians who play a wind instrument, you could define voicing as:
the shape of the inside of the mouth "oral cavity" used to create a beautiful, ringing tone on a wind instrument.
It is that specific use of voice which I ought to mean in this article.
However, in my usual fashion, I believe the truth goes deeper than such an anticeptic and specific meaning. A more effective and truthful definition might stem from the etymology quoted above. Descriptions such as sound, utterance, cry, call, speech, sentence, language and word hold more useful meaning for playing than you may think.
Why would these more primitive/original meanings help us play a wind instrument? After all, we don't make the sound with our real voices, we make them with a reed, or lips. Perhaps you see where I am going.
Singing a note, or a phrase, before playing it on your instrument can actually help you play it better.
How does literally singing help with paying a non-singing instrument? It does two things:
Singing (even badly) engages deep, instinctual memory of meaningful expression. Emotions expressed in such ancient utterance, cry, call or speech are the very stuff from which musical expression evolved.
Singing helps a wind player find an appropriately resonant oral cavity chamber for each note. Rather than talk open throat or high tongue, sing a note and play it.
In other words, effective voicing techniques for playing a wind instrument stem by default from the roots of voice, especially singing.
Singing before playing initiates ancient physical (hereditary and cultural) instincts in our bodies, going back to the dawn of human culture with meaningful expression in language, song, poetry and rhythm. Giving sounds meaning and repeating them helped to communicate a great deal among primitive cultures with no written word. Songs are even used as memory aids to guide travelers over long complex routes.
Speaking and its musical extension, singing, settled deeply into our shared history far before instruments were commonly used to express musical ideas. Singing itself helps share emotions, make connections through meaningful melody. Of course, meaningful sounds can also be traced back to birds and other animals uttering calls as expressions communicating their situation.
Those expressive and communicative roots are the reason we play music, to express, to utter something meaningful.
It cannot be otherwise, or it is merely empty noise. A novice, or even an expert musician who plays an instrument is more likely to lose touch with their singing memory than someone who sings with their voice.
The second, more practical effect of singing before playing is that it sets up the shape of the oral cavity to match the shape of that note for maximum resonance.
If this idea sound familiar, and if you are a flutist, you may know of flutist Robert Dick's book Tone Development Through Extended Techniques, which includes a chapter on "Throat Tuning". I quote from it below:
... the tone of the flute is not just the tone made in the instrument, it is a complex combination of the flutist and the flute. The sound we hear is that of the air vibrating with the flute, but resonated within the body of the flutist! (emphasis is Mr. Dick's) ... the vibrations pass not only forward from the embouchure into the flute, but back through the mouth, neck and chest...

If one looks under the bars of a vibraphone, a resonator tube is found beneath each bar. Each of these tubes is of the correct length to amplify its note, and the throat can function in a similar, but bar more sophisticated manner. The vocal range of the flutists, nd the octave the flutist's voice is tuned to, do not seem to be critical factors; the accuracy of the pitch, however, is.
Robert Dick also recently posted a series of YouTube videos detailing and demonstrating the technique, the first of which follows:

Of course, some people may not be able to sing a pitch before playing it, someone tone deaf, for example. Even in this case, an attempt at singing is more effective than none. It initiates many other systems of deep memory, such as gesture, utterance, cry.
Beyond singing one note, it is also easier to "feel" a musical phrase when the actual voice is used. It helps to first feel the phrase as you would sing it, and then with the same intention play it on your clarinet, or oboe, bassoon, trumpet, even string instruments or piano.
Would you like to share practice ideas with other musicians? You could do so at the Practice Café.