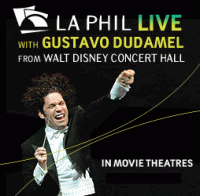 Los Angeles Philharmonic Offers Live HD Screenings - NYTimes.com.
The times they are a changin'. How will regional orchestras compete?
The days of numerous live performances by live orchestras in local concert halls may be coming to an end. As more top level orchestras broadcast live HD in theaters, small orchestras will feel even more crunched for audiences.
Although I love a live orchestral performance, I prefer to hear the best orchestras in the best halls. Given a choice, I'd probably opt for the HD broadcast of a great orchestra over a local performance in the flesh. Why? More bang for my buck. Easier access, too.
Following on the heels of the Metropolitan Opera's HD screenings, the first of three Los Angeles Philharmonic broadcasts featured Gustavo Dudamel, the orchestra's dynamic and telegenic young music director. The performance was broadcast to more than 450 theaters in the United States and Canada.

During orchestral concerts in traditional halls, many musicians are often hidden from view, heard but not seen until singled out by the conductor for a solo bow. But woodwind and brass players may have to get used to close-ups if live HD broadcasts become popular.

The most rewarding visual aspect of Sunday's broadcast was the chance to observe Mr. Dudamel at close range. In most halls the audience stares at the conductor's back while he or she communes in secret with the musicians.
Would you like to share practice ideas with other musicians? You could do so at the Practice Café.