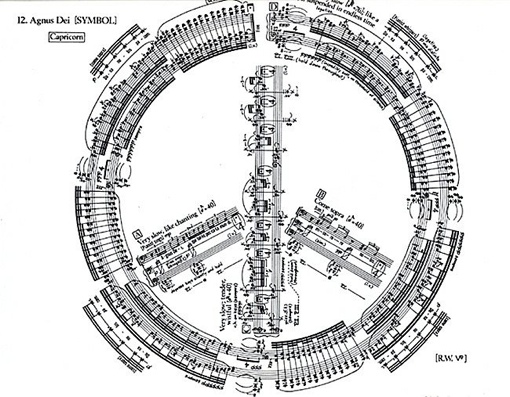 Image Credit- Roger Bourland music blog.
Alex Ross on Modern Classical Music
I've been wanting to write about this article by Alex Ross, published in the UK Guardian in November 2010, for some time now. Ross introduces some of the ideas from his new book, Listen to This, which is sure to garner as much attention as his first wildly popular book, The Rest is Noise.
Articles on classical music's troubles appear daily in various news publications, so why is this book such a breath of fresh air? Three reasons:
Ross is a master of historical detail regarding trends and attitudes toward art in the past few hundred years, imbuing his views with relevance.
He is a gifted writer with a knack for vivid and evocative descriptions of classical music, indicating his depth of understanding of the music itself.
He is not afraid to lay his considerable reputation on the line to say what few others have said, that the whole culture of classical music is deeply troubled.
I'd like to share a story from my own musical history, which relates to the views of Alex Ross.
Believe it or not, my first exposure to Brahms symphonic music was in High School. Although I had started clarinet at age 12, and had played a few simple solos from Brahms clarinet sonatas, I had not heard or played any of his symphonies.
Then, while attending the Interlochen Summer Music Camp, I was in an orchestra which played Brahms 4th symphony in E Minor, Op. 98. I was blown away by how "modern" Brahms sounded. I had enough musical experience and knowledge to compare his music to other more classical period works up through Beethoven, Tchaikovsky, Liszt and some 20th century works such as Howard Hanson's very romantic 2nd Symphony.
Brahms crams inventiveness into every measure, radically daring harmonies and rhythms tucked into an overall "sensible" romantic style. It seems almost too much to enjoy, at least for a casual, passive listening experience. His music was just challenging enough to my relatively shallow listening sensibilities at the time that he propelled me to seek more and more complex "challenges" of musical puzzles.
I agree with Mr. Ross below, that the entire culture of classical music must untangle itself from the tradition of "easy listening":
What must fall away is the notion of classical music as a reliable conduit for consoling beauty – a kind of spa treatment for tired souls. Such an attitude undercuts not only 20th-century composers but also the classics it purports to cherish. Imagine Beethoven's rage if he had been told that one day his music would be piped into railway stations to calm commuters and drive away delinquents. Listeners who become accustomed to Berg and Ligeti will find new dimensions in Mozart and Beethoven. So, too, will performers. For too long, we have placed the classical masters in a gilded cage. It is time to let them out.
Those are hard words to hear for a performing musician who has honed a career perfecting the dusty old classical symphonies. But they are perhaps even more painful words for those who manage orchestras. For they are the ones who must reinvent the business and marketing of orchestral music, selling it to a new audience without alienating the old too much.
Would you like to share practice ideas with other musicians? You could do so at the Practice Café.