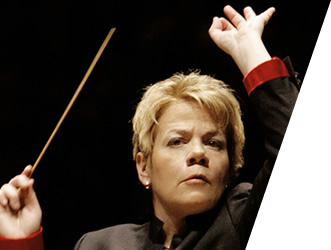 Classical Resolutions: Marin Alsop Targets a Tech Savvy Future, NPR blog Deceptive Cadence.
See highlighted text below for another reason why I wrote what I wrote in This Post.
From Baltimore Symphony Music Director Marin Alsop:
One of my greatest joys would be to see a resurgence (or maybe just a surge, period!) in the popularity of classical music over the next few decades. Can anyone envision that?

There are so many ways that we need to adapt, assess and reinvent ourselves in order to make classical music vital, relevant, and connected — from what we wear onstage all the way to the expectations of our audiences. I do see our industry making efforts to adapt to our changing society, but we tend to be a slow and conservative lot when it comes to change.

For me, the most exciting change emanates from the musicians themselves. They seem to be coming to terms with our ever-changing world, and now grasp that the purpose of recordings and digital offerings is to market the orchestra; to create a unique and distinctive brand; and to spread the orchestra's name to as many people as possible.

The live recording contract in America, a union agreement which now covers downloading and streaming, is a huge step towards achieving that goal.

But I would hope, moving forward, that musicians would look ahead to all of the digital opportunities possible, and work out a win-win situation, so that organizations can market orchestras on as many levels as possible through new technology — within reason, but without massive restrictions.

My hope for the new year is that orchestras can become far more flexible, to respond to innovation quickly. And that managements and boards can recognize and seize those opportunities on behalf of our orchestras and those who love to listen to them.
Would you like to share practice ideas with other musicians? You could do so at the Practice Café.