Image Credit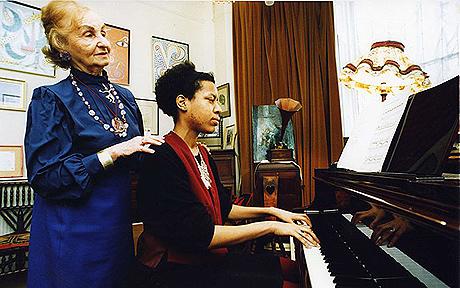 Professor Carola Grindea - Telegraph.
Professor Carola Grindea, who died on July 10 aged 95, was one of Britain's most influential piano teachers, whose concern for the stress on players led her to found the International Society for Study of Tension in Performance.
Like I've been sayin'...
Believing that misuse, not overuse, of the body is the root of such injuries, Carola Grindea developed a technique aimed at achieving slow, steady breathing to develop relaxation, not rest.

"When the body is used right," she would say, "the problems sort themselves out".

Working with medical colleagues to ensure that muscles are not strained, she aimed at a perfect alignment of head, neck and back to produce an ideal state of balance. This enabled musicians to experience an exhilarating sensation of lightness akin to floating, creating a matching stillness in body and mind to achieve peak performance.
Good stuff. Thanks to Wayne Mcevilly (Twitter @waynemcevilly for the link!