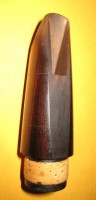 Here are samples of a short scale test on 6 different mouthpieces.
Several of them are made from wood. I've been experimenting with wood mouthpieces and Legere Reeds. Since the reed is a known quantity (who would have thunk!) any small changes which occur in a wood mouthpiece should not adversely affect performance.
When I recorded them, they all sounded so different. Listening to them now, they sound quite similar.
For what it's worth, I can assure you they are vastly different mouthpieces. I am curious how they sound to you.
MP1
Audio clip: Adobe Flash Player (version 9 or above) is required to play this audio clip. Download the latest version here. You also need to have JavaScript enabled in your browser.

MP2
Audio clip: Adobe Flash Player (version 9 or above) is required to play this audio clip. Download the latest version here. You also need to have JavaScript enabled in your browser.

MP3
Audio clip: Adobe Flash Player (version 9 or above) is required to play this audio clip. Download the latest version here. You also need to have JavaScript enabled in your browser.

MP4
Audio clip: Adobe Flash Player (version 9 or above) is required to play this audio clip. Download the latest version here. You also need to have JavaScript enabled in your browser.

MP5
Audio clip: Adobe Flash Player (version 9 or above) is required to play this audio clip. Download the latest version here. You also need to have JavaScript enabled in your browser.

MP6
Audio clip: Adobe Flash Player (version 9 or above) is required to play this audio clip. Download the latest version here. You also need to have JavaScript enabled in your browser.
I promise to deliver a more satisfying set of tone samples next week!!