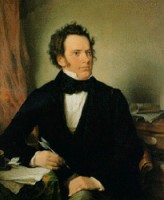 For this Clarinet Tone Talk I offer two short samples of the opening of Schubert's Octet in F (Op Post. 166, D 803).
The gorgeous opening of the second movement Adagio begins from nothing, with the clarinet emerging to define the key of Bb.
The first tone sample is of a modern clarinet. The tone is lovely; it's centered, ringing, pure. It seems to come from inside my head!
The second sample is played on a reproduction of a clarinet from Schubert's time. The sound is a bit more open; some would say spready or hollow. But I hear it as more like a voice than the first, more singing.
In the past I would not have liked the kind of tone produced by the old style instrument, but thanks to performances like this, with its emotional clarity and pure velvety tone, I like it as much as (if not more than) the modern clarinet.
What is your take on the two tones? Do you think performances like the second on a period instrument have influenced the overall concept of clarinet tone?
Audio clip: Adobe Flash Player (version 9 or above) is required to play this audio clip. Download the latest version here. You also need to have JavaScript enabled in your browser.
Audio clip: Adobe Flash Player (version 9 or above) is required to play this audio clip. Download the latest version here. You also need to have JavaScript enabled in your browser.
Would you like to share practice ideas with other musicians? You could do so at the Practice Café.