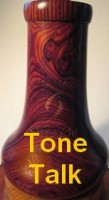 This is the third in the weekly Monday series, Tone Talk.
As I established in the first tone talk a few weeks ago, I would prefer to keep the performers anonymous, mostly to enable frank and unbiased discussion of the aesthetics of each tone sample.
Naturally, I do not treat this as a scientific discussion of tone, and nor should you. These samples are from recordings with completely different acoustics, microphones, positioning, and production technologies. My aim is simply to expand the language of the aesthetics of clarinet tone. I post my own appraisal of the tone sample, but all comments are welcome.
So in that spirit, here are the weekly samples for Clarinet Tone Talk 3. Since I just played Beethoven 6th Symphony, I thought that would be a good set of excerpts to discuss.
Audio clip: Adobe Flash Player (version 9 or above) is required to play this audio clip. Download the latest version here. You also need to have JavaScript enabled in your browser.
Audio clip: Adobe Flash Player (version 9 or above) is required to play this audio clip. Download the latest version here. You also need to have JavaScript enabled in your browser.
Audio clip: Adobe Flash Player (version 9 or above) is required to play this audio clip. Download the latest version here. You also need to have JavaScript enabled in your browser.
Audio clip: Adobe Flash Player (version 9 or above) is required to play this audio clip. Download the latest version here. You also need to have JavaScript enabled in your browser.
This clarinetist has a large AND well centered tone. Usually a player has one or the other. A balance of size and core is the ideal to which I strive.
After those two qualities have been accomplished, the colors of the sound are merely a matter of preference. This sound has just enough brightness to "carry" but not so much as to annoy.
Obviously it's an old recording and the sound quality is not as clear as it could be. But you get the idea. This player has a sound which rings like a bell. A word which clarinetists like to use to describe the particular ring of the clarinet is "ping".
Occasionally, the pitch is a bit flat compared to the rest of the orchestra. This highlights one of the numerous difficulties of playing in orchestra. A clarinet tends to go flat during loud volumes and sharp during soft ones. Unfortunately, it's quite the opposite for most any other instrument.
To play a projecting solo in orchestra, a clarinetist must use a great deal of air pressure while at the same time "voicing" as high as possible, which may include some constructive pressure on the reed, to keep the pitch from sagging too much.
While playing softly the opposite is required; the same player with the same mouthpiece and reed must release most of the embouchure pressure while maintaining a "ping" in the voicing.
Would you like to share practice ideas with other musicians? Please consider joining the Musician Practice Café.