Image Credit- Multiple Intelligence Theory
7 Musical Intelligences Series: Theoretical Intelligence -
Now we look at Understanding Music Though Formal and Harmonic Patterns
Continuing backwards from the holistic "feeling" of the emotional content of the music discussed in the previous post: Musical/Emotional Intelligence - in this article I want to take you a step deeper into the musical experience.
In answer to the query "What causes or creates the emotional content of the music?" -Beyond feeling music emotionally, we want to understand how it creates those emotions.
Theoretical intelligence - or just plain "theory" - is one of the best tools to grasp the content of music through underlying and extended patterns and structures.
Considering the big picture- examining the structure of a piece on its largest scale- we can ask:
What are the musical "ideas" - or melody or motive or theme - presented at beginning?
How many new musical subjects are offered throughout the whole piece?
Are there any relationships between separate concepts?
Music theory may intimidate some people - it does me! - although if you approach it from the simplest possible angle it becomes less so.
Without being a theoretician or academic, most people can spot patterns of different kinds in a work, starting with repetitions of a theme and perhaps exploring further from there.
By listening to a recording and/or reading a score, you may notice slight variations in repetitions or how a fragment of a melody is developed and explored.
Much though I am loathed to admit it, the greater your knowledge of of theory, the better you'll understand the musical message.
Structure and pattern are the form which gives music context.
I also encourage you to read about the writing and performing style of a piece from first performance to present day and also to research a little about the composer's life.
The purpose of music, and any art, is to reveal something fresh and new within recognizable patterns. Nature has structure, ecosystems, biology - a myriad of interconnected patterns, and is infinitely creative within those frameworks. The same applies to music.
Let's look again at the first phrase of the Rondo movement from the Mozart Clarinet Concerto. This time I'll outline the basic chordal structure.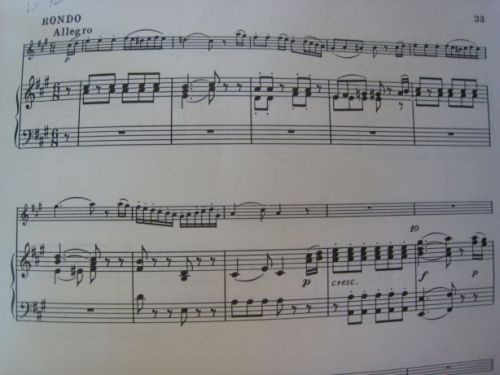 The first bar is a simple "tonic" chord - A major in this case. The second bar immediately heralds the ubiquitous "dominant" I discussed in the previous post. And further - it's a dominant 7th that is not only desperate to resolve to tonic but with insistence. It's as if the "dissonance" of the 7th is not content! Fortunately, it doesn't loiter for long - only one beat. By the second beat of the second bar, it's home again.
The third bar is only mildly unhappy with its harmony a mere 4th away from home as opposed to a 5th. This is the sub-dominant and no, that's not a strange master-slave game!
The fourth bar is Mozart's humor - even sexiness - showing through. A slinky chromatic gesture tickles our fancy, keeping us guessing a bit but then finishes on that needy dominant which quickly resolves again to tonic as of to say "Whew! I like coming home!"
The fifth bar is a repeat of the first, giving us a cozy comfort of the familiar. As expected, it lands again on the dominant 7th but we've been there, done that - nothing out of the ordinary.
Then something really dramatic happens... two things really.
First of all there's another chromatic "dissonance" thrown in, upsetting the direction. Aha - something is coming! Instead of arriving at our destination we're suddenly suspended somewhere completely different: we land on a minor chord - the first one. What a change!
Even more wonderful is that the expectation of "business as usual" threw us off when it didn't happen. We were tricked - hence the name "deceptive cadence". We went from feeling far from home in the dominant 7th to even MORE lost in the deceptive cadence to a minor 6th chord!
Luckily it was all a joke and the next bar pretends as if nothing has happened, bouncing back to tonic. Home again! Yay.
There you have it. Approached with playfulness and humor, any piece will begin to reveal itself through its own structures and patterns, bringing with them a few challenging surprises.
Practice –
-What are the themes? How are they developed?
-Analyse and identify the chord structures of a few phrases.
-If you really want a real challenge: seek out chord progressions in the development section of the Mozart concerto or any piece - talk about feeling lost at sea!
Would you like to share practice ideas with other musicians? Please consider joining the Musician Practice Café.