Image Credit Emilie Weidner ListenForJoy.com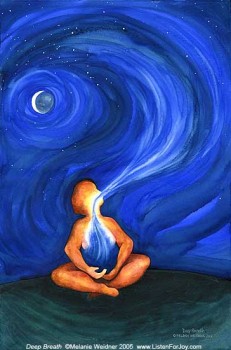 Happy Labor Day to all workers! Other than this short post, I am taking the day off from blogging.
I promised to have a video up today of exercises created with the Flow Breathing technique. But travel and family has delayed it. Instead I will post the video this coming Thursday, September 9th.
Since I just released the concepts of Flow Breathing and Suspension Support, I though it would be good to host a Twitter forum of those concepts.
The event will occur Saturday September 11 2010 at 3pm EST; 7pm GMT; 12pm PST. The formal discussion will last about a half hour. The Twitter location is #floB. (Don't worry, I'll explain how it works.)
If you are unfamiliar with Flow Breathing, please refer to my page on the subject entitled Flow Breathing Technique.
Suspension Support is described in detail in THIS article.
To join the discussion, log onto Twitter and search #floB. (Be sure to search with the hashtag!)
To comment during the discussion, type #floB (or #flob; all the same to Twitter) into your Tweet.
The nice thing about the #floB feed is you don't need to address anyone by name, unless of course you are asking something of a specific person. And it's short, leaving more room for Tweets.
All interested may join in. There is no limit. Come for one minute or 30. Read/watch if you wish. Ask questions, either of me or any other person in the discussion, and contribute your own views on breathing and breath support.
The discussion will be moderated to keep it flowing and focused.
I'll be sending Twitter reminders as the day and time approaches. I hope you can join in!
The ideas of Flow Breathing and Suspension Support will be included among others in my future book The Well Tempered Clarinetist.