Image Credit Kevin Geary Portraits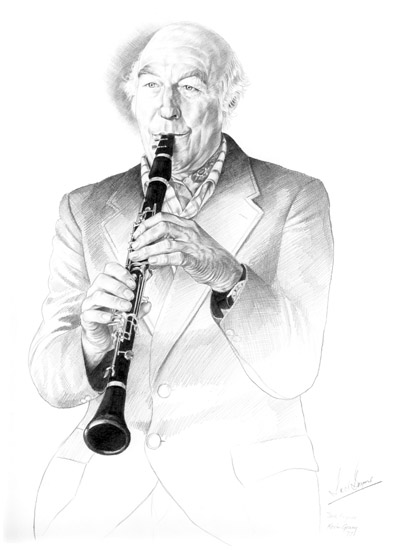 Jack Brymer (27 January 1915 – 15 September 2003), was a British clarinetist, born in South Shields.
This is the third post in the series "Tone Talk", samples and commentary on various clarinet tones from around the world. All discussion here needs to be understood in that context.
Any comments I write here are not necessarily criticisms; they are attempts to describe in detail what one player's tone sounds like to me. Tastes will vary. I mainly offer my constantly evolving opinion and description of what I hear. I also try to analyze how one tone or another is achieved, through the experiments I have done in my own playing.
Brymer's tone has always impressed me. Of the English clarinetists (that I know of) I believe he is my favorite.
The only comment I would make is that his tone occasionally slips into the "flabby" or "pot-bellied" spreadiness which is characteristic of English clarinet tone.
When I play loudly, I am careful to voice the note with a "point" in my air, which I feel as a lifting of my soft palette. If I play loudly with an open throat and little or no voicing, it results in a similar sound to the "pot-bellied" quality I hear in Brymer's sound.
Mozart Concerto movt. 1 sample-
Audio clip: Adobe Flash Player (version 9 or above) is required to play this audio clip. Download the latest version here. You also need to have JavaScript enabled in your browser.

Mozart Concerto movt. 2 sample-
Audio clip: Adobe Flash Player (version 9 or above) is required to play this audio clip. Download the latest version here. You also need to have JavaScript enabled in your browser.

Mozart Concerto movt. 3 sample-
Audio clip: Adobe Flash Player (version 9 or above) is required to play this audio clip. Download the latest version here. You also need to have JavaScript enabled in your browser.
From Wikipedia:
The son of a builder, Jack Brymer started his working life as teacher. In 1947, on the recommendation of professional musicians who had played with Brymer during wartime military service, Sir Thomas Beecham invited him to audition as principal clarinetist of the Royal Philharmonic Orchestra to succeed Reginald Kell. Brymer held the post until 1963 and, together with Gwydion Brooke (bassoon), Gerald Jackson (flute) and Terence MacDonagh (oboe), became part of the celebrated "Royal Family" of principal woodwind players with the RPO.[1] When he left the RPO, he become a co-principal in the BBC Symphony Orchestra (1963-1971) and principal in the London Symphony Orchestra (1971-1986).