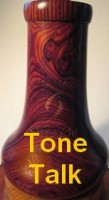 Continuing from last week, I have included only one sample here: the first movement of Mozart's Clarinet Quinete in A, K 581.
This clarinetist's tone is lovely, a good example of what I like to call "international sound", based on the trends and homogenization or genericizing of tone the past few decades in the clarinet world.
Some would say this trend is regrettable, but that's a matter of opinion. The fact remains, with international instant access to recordings, that all clarinetists are making choices which lead in this direction.
Audio clip: Adobe Flash Player (version 9 or above) is required to play this audio clip. Download the latest version here. You also need to have JavaScript enabled in your browser.

It is a delicate but round sound, which remains even throughout the range of the instrument and in all dynamics. Although the tone is pure, it is not bright. There is no edge.
This type of tone shows, in my opinion, a return to the way clarinet sounded before it became much brighter in order to project in large halls in the early to mid-20th century.
The only concern I would have is whether this tone would project in a large concert hall. This is not a criticism. This tone is perfect for this music of Mozart with strings. Perhaps the performer could create a larger more resonant tone for orchestra.