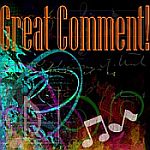 This comment by Gretchen Statthoff appeared on another comment post "How much theory is too much for an audience?" A valuable addition to the discussion of connecting classical music audiences to the music we perform for them:
Hi David,

I have been speaking to audiences for a few years, seeing how engaged they might become. After trying out that approach several times, I've decided that NO audience is stupid... being friendly and inviting them in makes a big difference.

They like being included. When they feel like participants, you can program contemporary music. They end up liking it, and coming to meet me afterward to discuss the concert!

Over the past year, I've performed one group of 4 Messiaen Preludes in NYC and CT (2 places), as well as in a country church in MA. All of those situations worked.

I try not to use jargon ~ turns people off. To accomplish that, I just visualize myself in, say, a hardware store. Audience members do have experience, just in fields other than ours.

Great post!

Gretchen
I just posted several YouTube videos of a preconcert talk I gave on Stravinsky L'Histoire du Soldat, the arrangement for clarinet violin and piano. I also posted the performance.