A podcast is a recorded interview which can be easily downloaded to an iPod.
I began podcasting about 6 months ago when I started a series of interviews with musicians of the Columbus Symphony.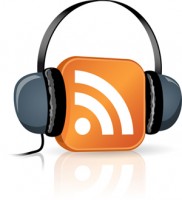 But the interview which became my first podcast was on a slightly different subject. I had an interest in interviewing my original clarinet teacher, Sidney Forrest, who is now 94. He guided me musically from Middle School through college, including several summers.
Of course, since this is a clarinet blog, I will continue with a series of clarinet players and teachers in addition to the series of Columbus Symphony musicians.
If you cherish a subject and passionately seek more depth in that subject, a great way to express that is through a podcast series on your blog.
My point is that both subjects are important to me, and benefit me in some way. Featuring the rich lives of musicians from my own orchestra, the Columbus Symphony, helps boost our public profile. And I benefit and learn from interviews with fellow clarinet teachers and performers.
If you don't have a blog, that's the easiest part! I'll write a post on it in another series.
I'll offer a quick 7 Step Crash Course in podcasting below but I will elaborate on each step in the following weeks.
The 7 Step Crash Course in Podcasting:
1) Get a self-hosted blog.

I have helped colleagues start their own blogs. They insisted on free services. When they wanted to post music they found that their free service was not so free when uploading large music files. Yet they have now established themselves on that site and don't want to move. Too bad they didn't plan ahead.

I recommend WordPress.ORG (not WordPress.com).

Self-hosted blogs are ultimately more flexible for cheaper, than WordPress.com or Blogspot for example...

...which charge for "extra" features such as being able to play music and which would prevent you from posting podcasts. Even if you have a blog, if it's not self-hosted it's worth switching.

2) Choose a podcast subject and theme.

While you are at it, name and number your series, something I still should do with mine.

I could call my Columbus Symphony musicians series "CSO Musicians", and my clarinet series "Clarinet Topics" for example. So I might have "CSO Musicians #12: John Smith, Violin" or "Clarinet Topics #7: Larry Combs on Mouthpieces". That way they are easily recognizable without a long description.

The subject is relatively easy to choose because it's more general. You might decide on music education, or musician histories, or clarinetists.

A theme defined by set questions asked of each interviewee helps to give continuity to the content of the podcasts.

If it's music education, for example, what aspect do you wish to concentrate on? Band conducting, orchestra coaching, private students, a particular instrument, or perhaps government arts policy? Music education includes quite a broad variety of topics!

The easiest way to do that is to choose a series of specific questions which you can send each interviewee. That way your listeners will know the general structure of the next podcast as they become familiar with it.

The continuity of the questions from episode to episode will also illuminate the differences in between interviews, such as different stories, or the various tangents or jokes which may arise.

3) Line up a list of people you want to interview.

I emphasize "want to" because the conversation is much more enjoyable to listen to if both parties enjoy talking to each other.

If you attempt to interview people you do not relate to or whose expertise lies completely outside your own comfort zone, the rhythm of conversation will reflect that.

For example, although I am a well established principal clarinetist I do not feel personally comfortable simple asking the principal clarinetist of the Berlin Philharmonic for an interview. Perhaps after I have established myself by interviewing several other clarinetists with whom I have a friendship I will be ready to move to bigger "game".

4) Now you need a way to record the interview.

If you have a recording machine for practice, that will work. Or if you have a voice recorder of any kind, you can record in person interviews.

But many prospective interviewees will require long distance communication. What then? How do you record a phone conversation for later download and editing?

There are several free online conference call recording services such as Free Conference Calling and Free Conference Calls. But I am always wary of site that offer free in their name. It usually means it is free at first. I have not tried the services I just listed, so they may be perfectly free.

I prefer the wonderful and versatile (and also free!) Calliflower.com site...

...which allows you to record phone "conferences" which you can easily set up online via Calliflower, and then down load to edit and post. You can also record directly to most computers if you have a microphone.

5) You will also need software to edit the sound.

It's not hard at all to do, but it may take a few hours to grow accustomed to.

For around $50 I downloaded a full package of sound, video editing and video converting software from AVS4YOU.com.

There are free editing softwares out there, but most of them require an upgrade to do anything beyond cut and paste, such as balancing volume. My software is not fancy, but it is flexible, and good enough to spruce up a raw interview.

6) It is advised to edit your interviews.

Besides reducing the pressure for either you or your interviewee flubbing something, it is advisable to remove some of the "Ummms" and Uhhhhs. 🙂

A few pauses in conversation gives it a natural rhythm, but too many and the detached listener will tune out.

If you are interviewing performers, soloists or composers or orchestral players, I advise adding a sample of their playing to the podcast track. I like to add a 5-7 second snippet before the interview, and a full movement at the end, perhaps 5-10 minutes.

7) Finally: broadcast your podcast effectively.

I use Blubrry podcast plugin for WordPress free-standing installs such as mine. I love this plugin.

I admit it takes a bit of patient probing to fulfill the capabilities of Blubrry Powerpress Plugin, but it's worth it. You can track stats for free, post to iTunes free, all integrated into your WordPress dashboard.

Blubrry gives you all the tools to post to iTunes, a great way to get your podcasts out to the larger public beyond your blog.
There you have it! If you absorbed all that, you are ready to podcast. However, I understand if that was a bit too much information to absorb in one post.
Don't worry. I will be writing detailed articles about each of these steps in the near future.