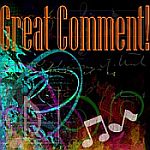 This perceptive comment appeared on a post about how much theory is too much in the attempt to deepen the understanding of classical music by novice audiences. It's a fine line. Not enough, and the richness of the music is glossed over, too much, and it turns them off. Of course, it is impossible to please everyone.
In a recent recital I gave, I described the Debussy Clarinet Rhapsodie and Stravinsky L'Histoire du Soldat with what I felt was just the right balance. Those pre-concert talks are posted on this blog and on my YouTube channel, for those interested.
I played a Webern piece on a recital once, with my grandparents in attendance. They were polite but, unsurprisingly, baffled. But after a quick explanation of twelve-tone composition, they were fascinated and wanted to hear it again.

Webern may be an extreme example, but any art music has some barriers to entry (and pays corresponding rewards). If you aren't aware of the idea of, for example, musical form--the idea that a theme may return later, or be transformed in some way--then a symphony seems like a long, rambling, and pretty boring experience. Audiences attuned to popular music may not realize that the symphony has a large and meaningful underlying structure.

Imagine looking at a photograph and not realizing that it depicts a three-dimensional scene, seeing it instead as only a piece of paper with colorful splotches. I think novice listeners sometimes hear classical music this way--pretty colors, but no meaning beyond that. I think audiences are smart enough to grasp and appreciate an idea like, for example, musical form (even without a Peter-and-the-Wolf-style program), if someone just takes a moment to point it out to them.