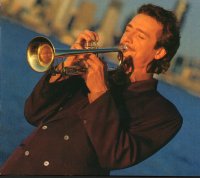 I was contacted via Facebook regarding this situation. See Allen's letter below requesting your vocal support.
A quick search for Allen Vizzutti came up with dozens of links. Among them is this amazingly!!! virtuosic and beautiful performance of Carnival of Venice variations.
He's also on Wikipedia. And here is is official bio and website.
Though I don't know all the inside details, I am shocked at the treatment Vizzutti has received. It is particularly distasteful and ironic that the head of a music department (U. of Washington School of Music) would betray and coldly dismiss such an icon of trumpet culture.
Music is a liberal art. From Wikipedia: "The term liberal arts denotes a curriculum that imparts general knowledge and develops the student's rational thought and intellectual capabilities. The contemporary liberal arts comprise studying literature, languages, philosophy, history, mathematics, and science. In classical antiquity, the liberal arts denoted the education proper to a free man." It doesn't sound like Richard Karpen, Dean of Arts and Sciences, has taken the rich implications of the liberal arts to heart.
Here is Allen's portrayal and request for support. Please consider jotting an email to one or all of the addresses he give in the following letter.
To all musicians and music teachers:

I am writing for your help. The University of Washington School of Music has a new director, Richard Karpen, appointed by the Dean of Arts and Sciences last fall. He is a computer music advocate and not very interested in any of the traditional ensembles. He does not seem to value experience, expertise, accomplishments, visibility, effectiveness or credibility in school of music faculty.

I returned from touring out of the US for a month on July 13th to find a form letter from the UW School of Music director's office informing me that under the guise of budget considerations my 10 year Artist in Residency position as trumpet professor for the UW School of Music has been eliminated. I had no warning in which to prepare for the loss of salary and health care. Computer music advocate, Karpen did not have the backbone or courtesy to discuss his plan with me personally or by email. During the last year I initiated 2 meetings in person with him to discuss cuts and the future. His attitude was condescending and he offered no information. In my professional life I have never been treated so disrespectfully.

Under the direction of computer music advocate, Karpen, during the last academic year, the brass faculty at UW went through several days of auditions for admission and scholarships only to be informed after deliberations were completed that we would not be allowed to admit anyone on trumpet, trombone or tuba in spite of a very talented and needed crop of applicants. Students and parents had traveled at their expense to audition when it was known by the administration that they had no chance for admission.

One extremely gifted and academically strong trumpet student was awarded the largest scholarship the brass department had available. He was never told of his award and was wait listed indefinitely. When his very concerned parents finally contacted the director just before the deadline for university acceptances expired, Karpen said and I quote, "You will never study with Allen Vizzutti." The student's father told me about this exchange later.

I am deeply concerned by the disturbing trend at the UW School of Music to devalue musical fundamentals, impose narrow artistic vision and undermine the faculty. I am now asking you, if you are willing to do so, to voice your opinion about my teaching, playing and/or the value of traditional music education, (in addition to contemporary music), or anything else you wish to say, to the Interim President of UW, the Dean of Arts and the Director of the UW School of Music at the following email addresses.

Richard Karpen < karpen@u.washington.edu> (director)
Anna Mari Cause < cauce@u.washington.edu> (dean)
Phyllis M. Wise < pmwise@u.washington.edu> (Interim President)

After dedicating a major part of my life to music education I am now reaching out for your support. Please forward this letter to your music colleagues and friends. I would love to see the emails to UW go viral.

Thank you.

Allen Vizzutti