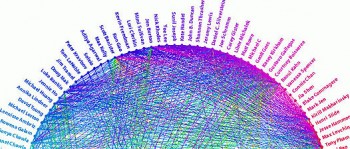 A quick search for social media for musicians brought up an array of good articles on the subject.
Most are directed at rock bands, but should translate relatively easily to classical performers in most cases. Good music is good music, after all!
An L.A. Times article suggests 5 foundation ideas to keep in mind through the process of establishing your presence on the Internet. These distilled ground rules arose from a live discussion presented by the Recording Academy, which featured 5 "social media stars"- Pete Cashmore of Mashable, Kevin Rose of Digg, David Karp of Tumblr and actor-musician Jared Leto,along with the academy's marketing maestro Evan Greene.
To tweet or not to tweet. That is no longer the question. Musicians who don't take advantage of social networking tools will soon perish in the La Brea tar pits of old-school media. Here's what the social media stars told us, boiled down to five easy tips:

1. Be real.
2. Pick a couple of services you like and focus on them.
3. Have something unique.
4. Share things that you are most excited about.
5. Embrace anarchy.
Any musician wanting to promote themselves on the Internet must keep these essential tips in mind. No amount of skill with social media will outdo a modest, but personal, message.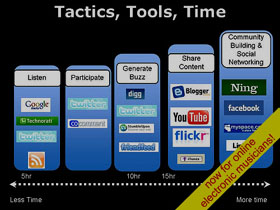 Take it from me... Having more friends on Facebook and Twitter does not necessarily translate into quality fans. Find your comfort level in terms of time and abilities, and keep it real. I guarantee, you will gain a good following.
Two articles published on the web technology and social media site, Mashable are definitely worth a visit. The first is 5 Social Media Tools for Musicians.
As the following quote from the first article makes clear, My Space is losing ground as the place to share music. But Facebook pages usually need a bit of tweaking to enable maximum accessibility to your music.
As we roll in to 2010, the selection of band-friendly social media tools is growing. Say goodbye to sporadic MySpace updates and incomplete tour information on Facebook. There are now more options for sharing your music with fans and empowering them to share it with others.
The social media tools suggested in the article appear to be cutting edge; the article was posted six months ago, making it relatively fresh information.
However, I think too many tools can easily overwhelm the average single musician's ability to keep up. I will continue to emphasize quality, not quantity.
I encourage you to check on the features and services listed in the article, but keep in mind that you can achieve a lot without all the fancy tools. Each service is set up differently. Each wants you to join and login. Each has strengths and weaknesses. I have tried many of these tools, and have learned through experience that a few simple tools can go a long way.
Photo credit http://matusiak.org/
The second article, How Musicians are using Social Media to connect with fans, offers some of the better social media tips I have seen anywhere.
The ideas discussed are:
1- Fan Funded Projects- Using the micro-donation service Kickstarter, A new way to Fund and Follow Creativity. Fabulous idea to use it for small projects, like a solo classical album.

2- Using video to create buzz- A 10 part documentary of a band leaders life created a big buzz boost for the band.

3- Creativity from the fans- This is self explanatory. But I LOVE the idea. In fact, I plan to feature Twitter and Facebook friends suggestions, for repertoire, art and poetry, in an up-coming album of my favorite melodies to help fund music education for needy children. (I admit. I am much better at coming up with innovative projects than implementing them. Or, put another way: I need more time, please!)

4- Reaching out to non-music bloggers- Beyond reaching out to non-music bloggers, this idea works on Twitter and Facebook as well. If someone supports your project, it doesn't matter if they are a musician or not.
Each fresh idea came from creative solutions successfully accomplished by different bands. I strongly recommend that any musician seeking better skills in social media take these fresh ideas to heart. Then give yourself permission to brainstorm your own versions!
The conclusion to that Mashable article:
No matter what the labels and corporations are doing, musicians are taking it upon themselves to use social channels to connect with fans, offer value, and create relationship. This has ultimately led to new business models and revenue streams from sponsorships, touring and live appearances, custom products, and social monetization through advertising.
An article from the site Insider Music Business boasts a clear diagram of the cross pollination connections between individual social media sites. (The diagram was created by Hit Singularity.)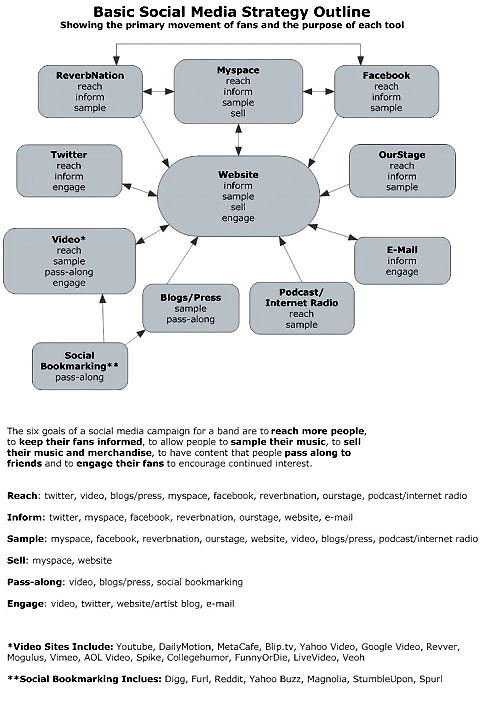 Notice the two way arrows in some connections and one way in others. Also, by placing a single website at the middle, it makes a visual statement, that social media platforms are only helpful to expanding your web presence if they are coordinated to feed to and from your own website/blog.
As you can see, the choices and ideas for effectively using social media can be daunting. But I will continue to emphasize one ground rule which rules all the others:
Find or create or focus on your own personal style and message.
This process may require a few quiet days to contemplate. But the time is worth it. If you find a way to be all You across the web, the rest will make sense.
PS- I found one more useful article to get started with social media. 5 Steps to Social Media Engagement for Electronic Musicians. It's also where I got the Tactics, Tools, Time picture.