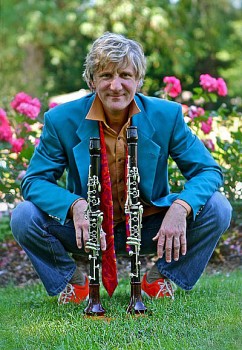 Yeah, some of you may remember.
Last summer I began a project to practice and record all 18 etudes from the book of 18 by Paul Jeanjean.
The idea was to post regularly about my progress, interspersed with sample practice takes. I got through the first two, and fully intended to continue. Then my Fall season hit in September/October. I tend to forget how stressful my regular indoor classical season really is. Then I am reminded all over again each Fall.
During the Winter, I accomplished a lot,
both in my playing and on the blog. But it was in a slightly different direction than I had planned.
I began to think about another project. I wanted to write a book online,
hopefully beginning soon. (Then again, it may fall victim to the Fall season, like the Jeanjean Project did)
I have made a lot of headway into the planning stages of the writing, and as you may have noticed, I have written more original posts recently.
One thing I have notice recently is that I drifted away from my original posting patters, into mostly reposting daily "fresh ideas about music" from the classical music news. I still want to continue that, but to a lesser degree.
From now on, I will aim for more evenly balanced posting.
Balance between all my many different posting subjects; including Jeanjean posts, general technique posts, social media posts, podcasts, and music poems; all interspersed with some classical news post.
The short of it is this.
I am officially getting back to the Jeanjean Project,
among other things. However, my original prediction of a completion date for the Jeanjean, this coming September, is unfeasible. I am guessing that you don't really care. I just want to be honest.
But the bigger pieces are beginning to fit together, along with my (hopefully soon) finished website design, the rhythm of my posting will become more "regular".
(Is there an ex-lax for irregular posting? Ex-Posto-Irregulario? Ex-Unpredictabilitypus-Destabulatorium. Now they sound like Harry Potter spells)
Which reminds me. I also enjoy playfulness,
in my playing, in my writing, in my vocabulary [excluding cussing] and hopefully in my thinking. Hopefully that "tone" is already coming across, though it may happen more often. (spells for that anyone?)
Back to Jeanjean.
Here is the official re-beginningus of that endeavor.
Take a look at the beginning phrases of this third etude from the Book of 18.
I have been thinking about this for awhile. The metric bar rhythm is 9/4, implying three groups of 4 notes. The music seems to follow that grouping reasonably well. But something is not quite right. Now, try looking at the actual phrase of his music in four groups of 4 notes. Then it all makes much more sense. At the end of the 3rd line, the first full phrase ends, a six part phrase in 8 bars.
I think the 4 against 3 phrases is quite brilliant, and now it is more satisfying to play it.
However, other than leaving behind the childish word games, I would prefer to put most of my short, Jeanjean updates, even practice videos, on the practice groups.
The Practice Group Cafe just a little off Main Street at Buzzing Reed... on a nice quiet corner... where I feel a little less exposed than I do in front of the whole crowd. I hope you'll join me there.