In a quick search for "music practice group" or "music practice blogs" or "music practice journal", I got only a few useful sites, most of which offer to sell book for logging practice sessions.
Only one App for practice logging showed in my search, Musician's Practice Journal, which though free, is clearly much better if you are willing to pay for the full version, which offers much greater perspective over time beyond a week of notes. Comments on the App site on iTunes didn't rave about it.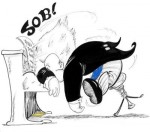 The one decent practice oriented website is Essential Music Practice. It offers valid and wide reaching advice for students, including posts on organization, efficiency, structuring practice, and targeting goals. The author also reviews tools for practice, such as digital recorders and tuners. The site is tailored around a published book, "Practice Makes Perfect".
Another site is Music Noodle, which offers advice mostly for parents and teachers of young musicians.
Learn Theory Music is much more than a music theory site. It's blog lists article on how to choose instruments (here's one on "how to find the best bassoon"), how to make reeds, how to practice, and just about any subject related to music learning. There are excellent introductory articles on breathing and the Alexander Technique. If there is a one stop site to find answers to almost any general music question, this is it.
One last site deserving attention is Natalie Wickham's blog Music Matters. I like it is because it remains a personal blog, including the authors more personal insights, though Ms. Wickham has filled it with a bountiful array of good advice. The top post July 5th is Monday Mailbag: Teaching Hymn Improvisation. Natalie also reports in detail her experiences at various Music Teachers Associations. One interesting article intrigued me, Practical Technology Tools in the Music Studio. More high level teachers are using cutting edge technology to help their students gain the edge. She has written several posts under the category Music Game Ideas.
I practice forums on iBreathMusic.com, which seems to be quite active. There are thousands of posts on "Getting Started", and many more under "Music Theory" and a good number on "Improvisation".
Probably the best classical music forum site is Bright Cecilia Classical Music Forums. But no one has started any practice journal groups.
Musician's Page, a place to list yourself and find jobs or players for jobs, also has forums, but not nearly as focused on classical music as Bright Cecelia.
Another Sound On Sound forums page seemed to have mostly pop music threads.
That's about it. I am glad I did this search. The wealth of really useful and timely information from just a few sites really impressed me. However, there are still very few places where musicians can share practice progress, tips and frustrations in a group journal style.