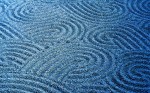 I have a small chamber music concert at my house tomorrow evening, June 5 at 8PM. I'll be playing the Debussy Rhapsodie, Stravinsky's L'Histoire du Soldat (trio version) and the Poulenc Sextet. I am working with all world class musicians. What a joy.
I love sharing my home in this fashion. My large great-room features a great view of my small but extensive, romantic garden through large windows. The way the house opens from the great-room to both the kitchen and dining rooms allows for about 35 people to sit and enjoy a concert in an intimate setting, "up close and personal".
Being a bit compulsive (perhaps more than a little), I have spent more time preparing my house for the event than I have my own playing. But all is well; the house is spotless, and so is the garden. Don't misunderstand; I have not ignored my practicing. I am in fine shape and well prepared.
But preparation for a concert takes more than practice. Most performers god through some sort of ritual, from meditation to napping to taking a walk, to listening to Def Leppard. (I don't know any classical musicians to listen to Def Leppard, but I can imagine heavy metal to be stress relieving for some. 🙂 I think each person has a unique way to mentally prepare for a concert.
I tend to shun rituals, believing in spontaneity and following my body's cues. But I usually have good results with a nap (to clear my mind and body) followed by a walk (to re-engage my system).
Another symptom of my concert prep mode is that I don't like to talk too much about it. On that note... wish me, and my wonderful colleagues, good luck tomorrow night.