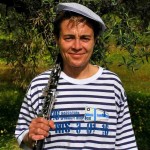 I am delighted to report of my first listening experience of Marion Harringtons's debut CD, Clarinet Notes from France. Though I received it a week ago, I did not take advantage of the early opportunity to listen to it until I had finished with all the recitals I played in the past few weeks.
Now that those are done, I am able to give my full attention to hearing the CD of my friend's labors of the last year.
Though Marion whined a bit about having returned to the instrument only a year ago, she need not have. 🙂 The slight trepidation her comment elicited in me was not necessary. I was pleasantly surprised at the soulfulness and spirit of her performances. She aimed for the correct target, and hit a bulls eye. The spirit of the music is the most critical aspect of any performance. Yet even performances of great players may occasionally lack substance in expressing the very heart of the music. Not Marion.
Any student of music can learn a lot from Marion's example. Courage and a vivid vision are really the only tools one needs to overcome limited experience.
Her slow movements are limpid, long in phrasing and rich in direction and intent. Though the faster tempos are on the slow side, they make up for it in character.
Particularly enticing are the Lento movement from the Saint-Saens Sonata, the Romanza of the Poulenc Sonata, and the Debussy Rhapsodie. Her breath control is quite fabulous!
The occasional rough spot here and there with tone and/or intonation could be attributed to equipment. Beyond possible improvements in that area, there were a few moments which will certainly benefit from more time playing the clarinet, and a bit more buoyancy in the air.
She and her pianist Jenny di Paolo were a good match. Both played with delicacy and care.
I am inspired by the character and integrity of this chum from across the pond. This representation of a meager year's work starting from scratch is filled with impressive promise, while also demonstrating the value of spirit and soulfulness in any performance.