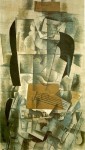 Concert marries music, paintings | Cincinnati.Com.
Classical music and paintings are a good match. We are used to images and music in movies. In fact movie music has become the leading edge of creative orchestral music. Consider the vast and complex film scores of John Williams and Howard Shore.
But classical music and images of paintings can also enhance each others' appreciation. Debussy can sound like Monet looks. Picasso and Stravinsky, anyone?
In one of the more original programs of the season, Mischa Santora and the Cincinnati Chamber Orchestra paired George Gershwin and Arnold Schoenberg Sunday afternoon in Corbett Auditorium at the University of Cincinnati College-Conservatory of Music.

Hearing the CCO perform this music to projections of Schoenberg's paintings and those by Klimt and expressionist Wassily Kandinsky (a great influence on Schoenberg and vice versa) served as a reminder that our ears have already been trained for such "difficult" music - at the movies. Nothing seemed the least bit unusual here, though seeing Schoenberg's self portraits and Kandinsky's energetic canvases did help cement impressions.