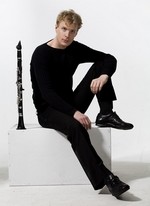 I first learned of Martin Frost when I bought a CD of him playing opera inspired tunes. It included Donato Lovreglio's Fantasia La Traviata, a wonderful bravura piece which I had played and wanted to hear an orchestration of. It also included other standards of opera inspired clarinet music, notably Rossini's Introduction Theme and Variations.
But Frost's playing swept me away. Very few clarinetists impress me as equally in all aspects of their playing. Someone with great tone may not have great musical ideas, someone with technique may lack a gorgeous tone. He is one of the two or three greatest clarinetists in the world who has technique, tone and musicality in generous portions. And I bet most of you would admit he's also kind of cute.
Though you can find many videos of him on YouTube, and of course, many recordings on CD, I give you this impressive video of him improvising two short pieces as an encore after playing the clarinet concerto of Kalevi Aho Clarinet Concerto the Lahti Symphony Orchestra on 11 Oct 2007, conducted by Osmo Vänskä.