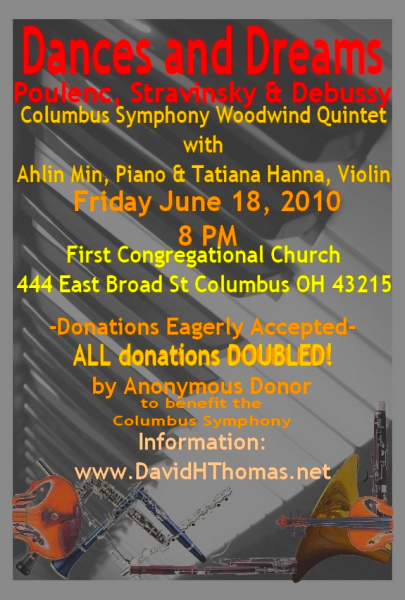 Dances and Dreams, with music of Debussy, Stravinsky and Poulenc.
Concert is free, but all donations given at this concert will be DOUBLED by an anonymous donor, to benefit the Columbus Symphony.
Friday, June 18th, 2010
First Congregational Church
444 East Broad Street, Columbus Ohio 43215
Featuring the Columbus Symphony Woodwind Quintet* and Columbus Symphony violinist Tatiana Hanna, with special guest pianist Ahlin Min.
Claude Debussy, Premiere Rhapsodie- for clarinet and piano, a dreamy, free spirited piece with the same magical style of Debussy's Afternoon of a Faun.
Igor Stravinsky, L'Histoire du Soldat- in a version for clarinet, violin and piano. Stravinsky's angular tale of a soldier tricked by the Devil and a possessed violin! A wild ride with Tango, Waltz and Ragtime dance music!
Francis Poulenc, Sextet- for Woodwind Quintet and Piano, Vaudevillian burlesque alternately with hauntingly seductive and dreamy melodies. Memorable and fun.
*Columbus Symphony Woodwind Quintet- Steve Secan, oboe; Randy Hester, flute; Betsy Sturdevant, bassoon; David Urschel, horn; David Thomas, clarinet.
For more information, please contact David- DTclarinet @ gmail . com
Also find more information HERE.