Practice day off. Need to get some sun in my soul before I can put out more musical feeling.
It's always a good sign when I feel & show gratitude, rather than worry over what I don't have.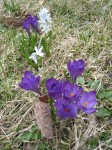 When I feel the grubbiness of life weigh on me, I return to Mozart to remind me of infinite beauty.
Music cannot lie, but a performance or piece can fail to convey the truth found in music.
The beautiful emotional & structural proportioning of Mozart helps balance the psyche and mind.
Mozart is healing through his inimitably crystalline balance, wit, variety, melody, sublimity. And for accessibility in all that.
Musical flying/floating: the circle of fifths progression, such as palchebel canon, but found in lots of classical music.
It's the freedom in time that gives life to a musical phrase.
But the freedom in time giving life to a musical phrase must be parsed architecturally, not randomly. It must make sense.
A note perfect, literal performance does not necessarily mean it is musically well parsed or that it draws you in with style.