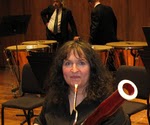 This is the first in a series of podcast interviews with members of the Columbus Symphony. I hope you will stay tuned for future interviews in the series. You can download any podcast from this site to listen to later, or you can also find them on iTunes. Thanks for listening. Enjoy!
There's a treat at the end of this interview; I added a track from Betsy's album with the Quartet Amici, the Andante from Quartet Opus 40, No. 1 in Bb by Franz Krommer. (Which you can still buy. Ask Betsy)
Don't forget to check out Betsy's Bassoon Blog!
Betsy Sturdevant's career as a bassoonist began at 15 when she won the second bassoon position with the Binghamton Symphony Orchestra. While attending the Eastman School of Music she studied with K. David Van Hoesen and performed with the Rochester Philharmonic for three years. During summers at Aspen, Colorado and Chautauqua, New York she studied with renowned Japanese bassoonist Ryohei Nakagawa. After receiving a Bachelor of Music degree and Performer's Certificate from Eastman, she won the principal bassoon position with the Columbus Symphony Orchestra.
Betsy has also performed with the summer festivals of Boulder, Colorado; Plymouth, New Hampshire and Spoleto, Italy. She has served on the faculties of Capital University and Otterbein College and now teaches privately. She has been featured as bassoon soloist with orchestras in Ohio, Indiana and New York.