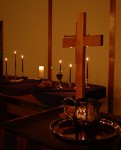 Last week I was invited to play a few solo pieces with the choir of First Community church in Columbus. The music minister, Ronald Jenkins, is also the chorus master for the Columbus Symphony chorus, one of the best all volunteer choruses in the country.
The two pieces I played were written for 4 part choir, organ and clarinet obbligato. They were The Lord is My Light and My Salvation by John Rutter, and Be Filled with the Spirit by Craig Courtney.
Here is my recording of the Rutter with the First Community Church choir.
Audio clip: Adobe Flash Player (version 9 or above) is required to play this audio clip. Download the latest version here. You also need to have JavaScript enabled in your browser.
I have always liked John Rutter's music for orchestra and chorus, and I have played much of it with Ron Jenkins, who hires a full orchestra several times a year to do such repertoire.
Rutter writes well for the clarinet. The soaring lines and hushed pianissimos of The Lord is My Light and My Salvation lay well on the clarinet, and the scherzo middle section shows off the clarinet's ability in perky staccato.
When playing with such a strong singing group as this one, I had to use a full orchestral tone to project, especially since Rutter writes much of the clarinet part in the middle range of the instrument.
The Courtney piece is also well written, with a similar tessitura and style; soaring melismatic lines, appropriate for the clarinet with its legato tone. I'll see if I can get a recording to post here.
Both these pieces are appropriate for good amateur clarinetists to play. If your church has a decent choir, ask your music director about performing them.