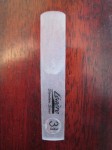 I have been playing Legere reeds for 7 months now. Since the Columbus Symphony season began in September, I have played all concerts on Legere Signature model reeds.
Now that I have settled back into Buffet clarinets and Lelandais mouthpiece, instead of changing styles and brands daily, I am happy to say that the Legeres are feeling even better than they did a few months ago. In other words, the reeds were not causing problems for me as much as the other equipment, or my lack of comfort and familiarity with what I was playing.
I have also heard some news from other parts of the orchestral world, namely Germany and Israel.
Nick Kuckmeier the Austrian mouthpiece maker says:
"...the DSO "Deutsches Symphonie Orchester Berlin", a very famous, high standard orchestra in Germany, was looking for a principal clarinet for more that three years, and now a young fellow won the position because of his outstanding sound playing with my mouthpiece and your reeds."
Apparently, some members of the Israel Philharmonic clarinetists also endorse Legeres.