This weekend the Columbus Symphony is playing a symphonic concert featuring pianist Andre Watts in Beethoven's 5th Concerto, Emperor. Andreas Delfs, former music director of the Milwaukee Symphony, leads us in Johannes Brahms' 2nd Symphony in D Major.
Delfs had some interesting comments during our rehearsal of the Brahms today. At one point, wanting to urge us to play particularly passionately in one place, he said "You never know how many people in the audience are hearing this for the first time." I agree. And his comfortable familiarity with the piece promises a rich and noble reading.
To open the concert, we are playing something new to us, Roberto Sierra's Fandangos, written in 2000.
Mr. Sierra, Puerto Rican, was born in 1953. He studied in Europe, notably with György Ligeti, a well known avant-garde composer, whose music was featured famously in the move 2001 A Space Odyssey.
Fandangos has some passages which are, for all practical purposes, unplayable. The photo below shows the first page, listing the tempo at quarter equals 96, the second photo shows the passages in question. Notice also that the first page also says "Improvisatorio, and a bit later "con garbo", meaning "jauntily". The possessed passages will definitely sound improvised, and not just a little bit jaunty.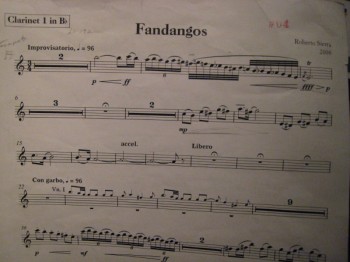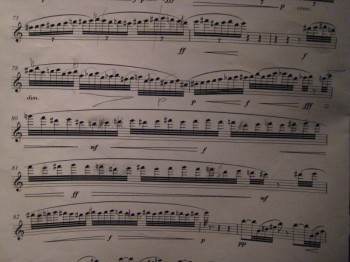 Dear Mr. Sierra, what were you thinking? Why did you write such fiendish licks for us? Musicians are good creatures, never wishing to harm anyone, except themselves. Did a musician mistreat you at a tender age? What did we do to deserve banishment to the guilt-riddled purgatory of failing to play exactly what is written? Please, send me a list of clarinetists who can play these licks perfectly, and I'll show you a clarinetist like the technical genius monster Kari Krikku, or another once in a generation player.
So Mr. Roberto Sierra get the "Naughtiest Composer so far" award.