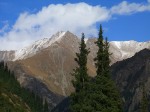 I turn 50 next Wednesday. Instead of a mid-life crisis, I am experiencing a powerful maturation of emotions and attitudes toward my vocation, clarinet. I hope it never ends. I am as happy as I'll ever be, content in my bubble bath of ideas about breath, voicing, articulation, phrasing, equipment, concentration, freedom in playing, etc. I am truly blessed to be able to focus on the one thing I madly love to do: play clarinet.
A little over a year ago, I had a website made (www.DavidHThomas.net), a professional looking site which featured past performances, repertoire, philosophy of teaching, lecture ideas. I planned for my "new" career as a soloist. I have soloed successfully numerous times with the Columbus Symphony and several times another orchestra in Maryland, the National Philharmonic. So I expected to be able to find a niche and perform a few solos a year. After a bit of research, however, I realized that I was already one of only 20 or so clarinetists who had soloed with orchestras in the past few years. Most of them are the principal clarinetist of the orchestra they soloed with, as I am. The others are top level international players, like Stoltzman. I couldn't, or didn't want to, compete in that world.
But that popped bubble didn't curb my enthusiasm. I continued passionately forward, though I wasn't sure where the path was going. I just knew I wanted to know the clarinet inside and out, backwards, forwards, in my sleep. I wanted to answer the why more than the what of how to play the instrument. Though I am a high-level player, the occasional slump in playing has sometimes been difficult to navigate out of. This time I wanted to solve any problems I might have had, or might encounter in the future, once and for all.
Another interesting development occurred in my perspective. Sometimes, near the end of a fairly intense practice day, I would find myself playing in a trance, lost in some other time zone, a rare world where music is the only air needed to survive. I breathed that musical clarinet air deeply as long as I could play for that day, knowing I may not easily find my way back to that sweet paradise the next day.
After several experiences like this, I began to sheepishly admit to myself: as much as I enjoy performing, I actually enjoy practicing and playing music for myself even more! Who needs an audience! I find myself by losing myself practicing a deeply challenging Jeanjean etude, or a musically rich Bach unaccompanied cello suite. Performing almost ruins the spontaneous beauty of it all, with the accompanying high standards one must meet to be approved; and with the perfectionist expectations most listeners have nowadays from hearing so many artificially perfected recordings.
Over several months of this kind of thinking, it dawned on me that for most of my life I had wrongly motivated myself regarding music and clarinet. I had performed because it was what I was supposed to do. I am a clarinetist after all. It's what I do. Please don't misunderstand. I have never hated performing, only misunderstood the larger picture of why I do what I do.
That's when I decided I would prefer to share the whole experience, the struggle of the process along the way to (hopefully) perfecting one or any number of pieces. My sights latched lovingly onto the biggest (unaccompanied- remember, this is a solo journey) musical mountain which presented itself. The result was: The Jeanjean Project, my commitment to share the process of learning all 18 Etudes of Perfection. And it still stands.
To those of you who may be wondering if I still plan to follow through- What may have appeared as aimless wandering is actually part of the project, albeit a somewhat unplanned side journey. All my experiments with equipment in the past few months, the mouthpiece and instrument trials and audio samples, have been a vital foundational refinement toward performing the etudes. I must love and breathe my equipment before I can live and breath the music without interference.
Now that I have a real goal, a goal I have chosen and committed to, the big picture is more apparent. It's just that the scenery is so vast, it takes time to map it all before forging on the journey to the mountain top. But I have all the time in the world, since this is my world and my mountain. I love breathing clarinet air. Follow me if you like. See you at the top.