Here is a clip of a few measures of French clarinetist Michel Arrignon playing with the most beautiful clarinet tone I've ever heard. I don't know much of his playing beyond this recording. He sounds more human on those, so for now, I'm just enjoying the magic he captured on this recording.
The music is Arnold Schoenberg Op. 24 for Septet and Baritone. He sounds phenomenal throughout, not just this excerpt. Here's the 30 second clip.
Audio clip: Adobe Flash Player (version 9 or above) is required to play this audio clip. Download the latest version here. You also need to have JavaScript enabled in your browser.
I suggest you buy the CD.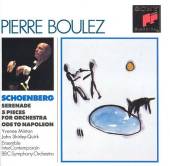 It's really quite a stunning performance from all involved. But Michel Arrignon, in this recording, which is not new, sets a vivid standard for beauty, elegance, ring, color, shape, suppleness of tone.