From Marianne Faithfull to Marijuana on Clarinet Boulevard, from Brahms to Blues to contra-alto-clarinets to T. S. Elliot, today's google report on the keyword clarinet overflowed with color and variety.
According to the South Bend Times, an Elkhart mas was arrested after neighbors complained of marijuana smoke smell on Clarinet Boulevard. That's what happens when a street is named after a party instrument! They may as well have called it Bacardi Lane.
In Monte Vista, CO, the contra-also-clarinet (I thought it was just an imaginary instrument) is featured and played in both the Select Symphonic Band AND the Select Wind Ensemble. These are no ordinary bands; they are a select group of players from CO, NM and UT.
I love Marianne Faithfull. Her haunting voice and choice of high quality songs has always appealed to me. (I like sweet sad songs. Must be my Welsh heritage)
On her latest full-length collection, Marianne Faithfull, the queen of torch songs for the damaged soul, returns with producer Hal Willner for another beautifully haunting tour of a landscape littered with the detritus of shredded hearts.
Why did it show up on a clarinet search?
...an otherworldly setting blending sighing wah-wah guitar with sweetly sad clarinets...
"Sadly sweet clarinets". That why. I was listening to some Giora Feidman today, and playing along with him. When I grow up I want to play like him!
In sunny Pasadena, a new work for clarinet by Mark Carlson:
...the award winning chamber ensemble, Pacific Serenades, presents the world premiere of Carlson's "View from a Hilltop" for clarinet/bass clarinet, violin, cello and piano...Also on the program – entitled "Music Among Friends" – are Brahms' Clarinet Trio in A minor, Op. 114 and Ravel's Sonata for Violin and Piano.
"View from a Hilltop" will make its debut in the company of works by icons like Brahms and Ravel. "This allows the audience to realize what should be obvious," explains Carlson, a professional flutist who founded Pacific Serenades in 1982. "Every composer in the past was a composer of new music, yet because of their god-like stature in our present mentality, we forget that they were cranking out new music all of the time."
It sounds like something worth attending. I'd like to hear the piece, and the rest of the program.
Members of the National Symphony (from Washington, DC) will be spending the last week of March all over Arkansas, in what's being called a "residency" in the Arkansas Democrat Gazette.
Loren Kitt will be involved, giving masterclasses and reading through student compositions with feedback from the players. oren is one of the best orchestral clarinetists in the US these days. He doesn't get the high profile press of many more famous younger players, but he is a master of the instrument, with marvelously rich and mellow tone and impeccable legato, intonation and phrasing. I hope the students who play for him in a masterclass realize that.
From the United Kingdom, a blog called Interchanging Idioms write of a world premiere of a work by Joseph Swenson, a Symphony for Horn and orhestra called The Fire and the Rose.
Swensen took his inspiration from T.S. Eliot's poem, Four Quartets, a poem that was written in response to Beethoven's late string quartets. The two main themes are time and remembering, with many references to déjà vu in Eliot's poem. Swensen has captured the essence of déjà vu by creating echoes of echoes which reverberate throughout the piece.
Sounds like a piece worth hearing, or perhaps performing here in Columbus. The rest of the program includes Sibelius' Pelléas and Mélisande and Respighi's The Birds.
The only mention of the clarinet is "the Orchestra's Principal Clarinet, Maximilliano Martín, takes the solo in Brahms' Clarinet Quintet." But who cares. Mention of Brahms late works, Beethoven late string quartets and inspiration from T. S. Eliot are enough to pique my interest. Weekend trip to Glasgow, anyone?
From another blog called Brit Abroad (Missouri), an excerpt of an upcoming novel mentions clarinet in the middle of a beautiful and evocative description of the narrator's grandparents arriving in New Orleans from Germany.
Just then, the sound of a cornet floated through the air. Frederick listened. This was not the sort of dry fugue that echoed through Hanover concert halls. The instrument had been unshackled: it spiralled upwards in bewildering syncopated patterns, a whirlwind of graceful elision and complex melody. The music streaked into the night, every note dripping with joy. My grandfather stood up, thoughts of return forgotten. He followed the sound.

Half way down a nearby side street stood a building lit up like a beacon, bathing the sidewalk in its warm glow. A sign hung over the door: Chez Benny's. The strange music spilled out of open windows. As he approached, Frederick could hear other instruments –clarinets, a trombone, a banjo. He peered inside. Through a fog of smoke Frederick could see a large room crammed with people, some at small tables, some standing, others dancing. At the far end of the room, six musicians stood on a stage. The cornet player was at their centre, his eyes tightly closed as he blew his horn. Staccato flurries of notes ripped into the night, ragging the up-tempo tune. Behind him the other men were swinging in a sweet, scorching counterpoint of rhythm and harmony. The cornet player bent his knees like a boxer as he delivered each new blistering line of attack. Hot glissandos shimmered in the air, tearing up the joint.
There's more about the coronet but the clarinet's tone is one of the spicy sounds of the scene.
Speaking of New Orleans, coronet and clarinet, the Arts Journal Blog (New York City) writer Terry Teachout waxes about Louis Armstrong's West End Blues.
He quotes from an upcoming book of his on Armstrong: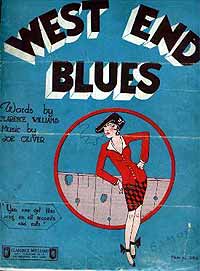 "West End Blues," recorded on June 28, starts with a surprise, an unaccompanied cadenza in which Armstrong snaps out four biting quarter notes by way of fanfare, then vaults upward through a chain of interlocking triplet arpeggios to a fiery high C embellished with a touch of vibrato. It was the most technically demanding passage to have been recorded by a jazz trumpeter up to that time, and for this reason alone it was bound to have displeased the old-school New Orleans musicians of Armstrong's youth, one of whom grumbled that "because Louis was up North making records and running up and down like he's crazy don't mean that he's that great. He is not playing cornet on that horn; he is imitating a clarinet. He is showing off." Armstrong admitted that he had aspired when young to the facility of the great New Orleans clarinetists: "I was just like a clarinet player, like the guys run up and down the horn nowadays, boppin' and things."
There you have it. We can now be sure that the clarinet is a dangerous influence on any person's character, inclining them toward "boppin' and things"; to play strange other worldly not-quite-believable instruments (contra-alto-clarinet). Clarinet music can be seen with the like of such unruly characters as a deaf Beethoven, T. S. Eliot, Brahms (a closet Gypsy), partying in rowdy bars, and causing folks to turn to drugs such as marijuana, or tend toward melancholy and enjoying "sad sweet" moods. And famous clarinetists proselytize in remote places like Arkansas, looking for fresh converts. Parents, be warned, letting your child play clarinet could cause serious problems later in life.